darkspirited1
at
SIGNAL BOOST: SAY YES TO GAY YA
This comes from an article by
rachelmanija
entitled,
Say Yes to Gay YA
.
(click the link for the full article)

Our novel Stranger has five viewpoint characters; one, Yuki Nakamura, is
gay and has a boyfriend. Yuki's romance, like the heterosexual ones in
the novel, involves nothing more explicit than kissing.

An agent from a major agency, one which represents a bestselling YA novel in the same genre as ours, called us.

The agent offered to sign us on the condition that we make the gay
character straight, or else remove his viewpoint and all references to
his sexual orientation.

This isn't about that specific agent; we'd gotten other rewrite requests before this one. Previous agents had also offered to take a second look if we did rewrites… including cutting the viewpoint of Yuki, the gay character.
It's time to stand up and demand change. Spread the word everywhere if you are just as angry and outraged by this.
Originally posted by
Current Mood:

determined


Scuse my silence, people of LJ. The real world has eaten me a bit of late, but with good reason! I have a full-time job now, starting on the 1st of February and I have spent all my time running around like a mad thing trying to get ready.

I am moving to a small country town called Birchip, about 4 hours north-west of Melbourne. I'll be teaching year 8, year 9-10 and year 11 English and year 9-10 lit. A bit scary but I'm really looking forward to it! I'm moving into a two-bedroom house with a mad dog and a mad bird to keep me company.

It's going to be a big year but I'm feeling fantastic about the prospect (and the pay is a lot better than La Porchetta too! :D )

I'm moving for good on the 30th of January - my family is helping me do a big move this weekend. With all the rain in the north-west in the last few weeks the roads have been closed and we've been unable to get to Birchip. Eeek! Better luck this weekend I hope :D
I'm not dead, I promise!I'm alive, I'm still here see?
Last week of placement! So much left to do! Eeeeeeeek!
*ahem*
I am feeling sucessful and I am achieving things. I am building excellent rapport with my students. Especially my Year 8s. They are divine. I was warned by another English teacher that my Year 10s are lazy and unmotivated. For my first session with them that was certainly the case. They were sluggish, quiet, blank.
BUT TODAY!! TODAY!!
My troublemaker student was away. The class was talking! Debating! Writing and note-taking and offering their opinions and DOING WHAT I HAD HOPED IN MY HEART OF HEARTS THEY WOULD DO. I am so pleased. I like my Year 10s today a LOT more than I did on Monday. A lot. A heap. A pile!
I am excited to be here. I am excited to be on this round.
Also also also
ockyflam
and
theladylillith
are here tonight!
Also I need to do the groceries. I am running out of food.
My sister got a tattoo in Albania! Mum is
furious
. I pointed out that no amount of fury is going to un-ink her. That didn't go down so well.
I have a spare period. I should be planning my year 8 unit, but I am so hyped up from my last class I can't sit still.
Gah! You guys! I'm so very nearly a teacher!
First week of placement, take that! HiiiiiYAH!
What kind of act would you want to perform if you joined the circus?
I used to entertain myself with ideas of running away to join the circus. I was convinced I'd get to be the littlest clown, the one who all the other clowns pick on :D
I'd like to be a firetwirler though. That would be cool.
That seems reasonable, doesn't it?
Current Mood:

sleepy

I've been stewing about this for a few days, so I thought I would share.

I don't get to start the allergy treatment for another 6 weeks - they have to get one made up specifically for me. The first allergy specialist kind of neglected to mention that the second appointment wasn't for injections, just for "let's talk about your options".

GRARGH.

Six weeks is halfway through the initial stage of injections. By the time I start the goddamned things I could already be halfway better.

I am so sick of feeling like this.
Current Mood:

tired
So the other day some neighbours came over for lunch.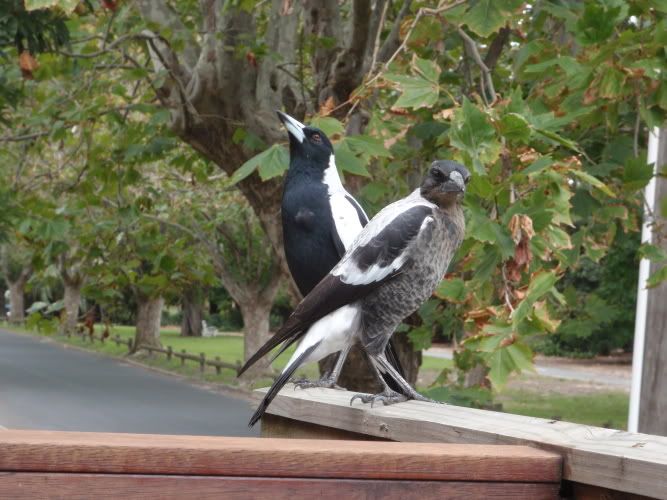 And they seemed particularly interested with the new camera I got for my birthday.



Hee!



I can't wait to start immunotherapy...
Another big weekend. Hang in there, body!


And it really made me smile. I think there should be more eccentric French people running around Melbourne complimenting people. Imagine how much better the world would be.
This morning I was working a myki shift at Flinders Street Station, down at the Degraves St entrance. In the last hour of my shift this eccentric looking lady with a charmingly french accent walked up to me and said "I can see why you were chosen for this job, you are so beautiful! Ooh la la, jolie, jolie!"